I had planned on posting regular reports from the "The High Peaks of the Adirondacks" workshop last weekend, but long hard days and lack of sleep got the best of me in the end. It was a great workshop in terms of learning to deal with challenging weather conditions, as well as tough terrain.
The High Peaks are known for steep mountains, tough trails, and very inconsistent weather. I was originally hesitant to offer a workshop in this part of the Adirondacks because I am always thinking of selecting locations that provide the best opportunities for students. But the photographic potential and incredible scenery ultimately convinced me that it was worth the risk.
Afterall, nature and landscape photography is all about patience, frustration, and learning to "discover" opportunities even when it seems there are none at first glance. It's always nice when we have perfect conditions on a workshop, and images are "easy" to find, but that is not the real world of landscape photography on a long term basis.
More often than not we are "chasing" the light, trying to read the weather, struggling with the environment (blackflies!), and preparing to do it all over again the next day when our images don't quite meet our expectations. This is the reality I am most familiar and comfortable with, and so this workshop gave me the opportunity to work with students in situations they might often encounter when out on their own.
A typical day was as follows:
Head out at 4:15am to the days sunrise location- sometimes hiking up small mountains to dramatic viewpoints.
Breakfast at 9am, often including a lengthy discussion where we discuss all things photography, especially the marketing and business side.
A 2 to 3 hour afternoon session where I give different presentations on camera technique and photographic principles, composition and light, and in-depth photo critique's with each student.
A sunset shoot at a location suited for evening light, ending about 9pm.
Repeat for 4 days.
This can get pretty intense both physically and mentally, but it also gets everyone in a particular rhythm and  frame of mind that I think develops your photography skills tremendously. So even if students are not capturing "masterpieces", they are learning valuable skills that will help them on future outings. That is my primary goal on every workshop.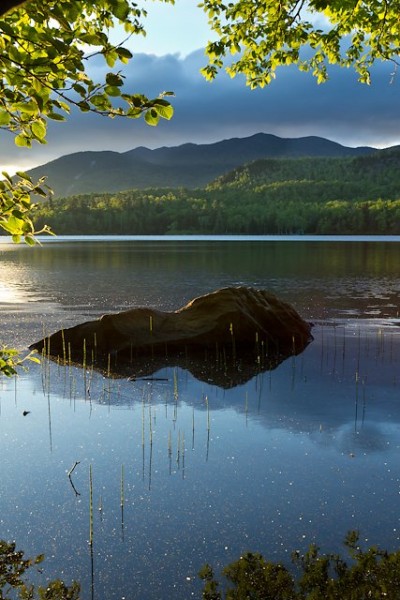 I'm really happy with the way the workshop turned out, and feedback from students was very positive. Lake Placid is a great town to hang out in, and any direction you take out of town puts you in some part of the beautiful Adirondack park system. All in all, it still remains one of my favorite locations, and I will be returning alone in late September to climb the highest peaks. Hope that gives you a good sense of what one of our workshops is like – experiencing nature, hard work, friendship and camaraderie – hopefully that inspires the creative spirit.
Thanks to all the students who participated!