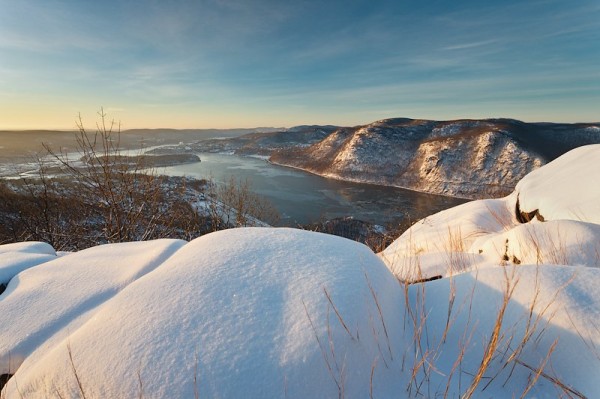 Canon 1DS Mk III, 19mm, 1/8 sec, f/14, ISO 200
Winter has been rather mild this year with little of no snow fall until now – finally! With 4-6″ on the ground, I headed out for a long and very cold hike yesterday up to this spot overlooking Cold Spring, with West Point Military Academy further south along the Hudson. I managed to capture just this single image after struggling to find an interesting foreground and eliminating trees and branches that would have been distractions in the composition. I used a  single 2 stop graduated filter to darken the sky and let the highlights in the foreground snow really help lead the eye into the composition.
With ambient temperatures around 4°, it's tough to manage the controls on the camera and keep my fingers warm, so I use Manzella convertible gloves which make it easy to use my fingers when I need to, but also keep them warm. I have a very difficult time with cold fingers, so I always keep chemical hand warmers in my pockets for that extra burst of heat.
I love visiting this spot during in different seasons and conditions, you never know what you're going to get, and it challenges me to find new ways to photograph the same view. Thanks for reading!