I'm finally back from my trip to Annonay France, where I spent 10 days working with Canson at their bi-yearly customer appreciation event. As a Canson ambassador (more info to come), it was a fantastic experience to learn both about the history and heritage of Canson, as well as the French culture itself. To say that I enjoyed wine, cheese, and great food would be an understatement, so I am definitely spoiled now when it comes to a good dining experience.
Customers from around the world were invited to spend a few days at a beautiful resort learning about Canson products, the paper making process, and the history of the company. They were then given tours of the various Canson facilities, including the paper mill, the world wide distribution center, and the museum. It was interesting to learn how paper is made, all of the quality standards that are used, and how how they strive to make the process as green as possible. In the digital paper seminar, I spoke about which papers I use and how I chose them, my printing workflow, and my photography business in general. This gave customers an artist perspective as well as ideas for working with photographers in their own local regions.
Customers came from around the globe, and I really enjoyed meeting them and learning about their culture and way of life.  Represented countries included Norway, Brazil, South Africa, Indonesia, Japan, Australia, Dubai, Pakistan, Chile, Czechoslovakia, Turkey, Korea, and others I may have forgotten. This was truly an eye opener for me as someone who has never traveled abroad.
I was asked to make a portrait of each guest which was then printed and matted (on Canson paper of course), and given as a gift of appreciation. While I do not market myself as a portrait photographer, it is one of my personal passions, so this was a great chance to practice and have fun with the guests. I used a combination of my Canon 60D with a Sigma 30mm f/1.8 lens, and a Panasonic GH2 with the 20mm f/ 1.7 lens. Both lenses are fast and perfect for natural light portraits, so it was just a matter of finding great window light and experimenting. BTW- with the crop sensors in each camera, that works out to 47mm and 40mm respectively, a decent focal length for portrait work.
I also visited Lyon, the largest city in the area, which is rich in history, culture, and architecture. While my time there was limited, I did visit some of the key areas of the city including the largest cathedrals and old neighborhoods which date back hundreds of years.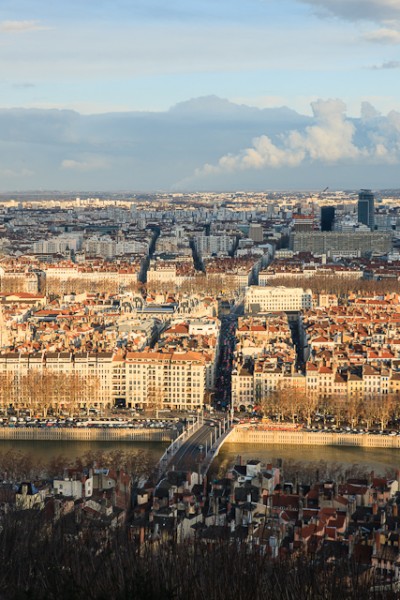 I'll have more info and photos on the rest of my trip in part II – stay tuned!