During my trip to France last month, I was given permission to photograph the Canson paper mill in Annonay France. This has never been done before, so I was really thankful and grateful for their trust.
During my tour, it was fascinating to learn how paper is made, and how difficult it is to create just the right texture, feel, color, and finish that will appeal to painters and photographers. To learn that artists such as da Vinci, Monet, Picasso, Degas, and Van Gogh used Canson paper, and that many of the originals in the Louvre Museum in Paris were painted on Canson paper is both impressive and speaks volumes about their quality and legitimacy. I came away with a deeper respect for the pride they take in paper making, as well as their commitment to being green and environmentally friendly.
Because Canson does not allow any photography during public tours, I couldn't take any photos but kept wishing I could after seeing how impressive the mill was. I thought it would be great to show my blog readers (you) some behind the scenes images, so after some friendly negotiation, I was allowed to return to the mill camera in hand, with full clearance. I promised to let them approve all photos first before I made any public. They will also be using some for their own promotion.
I hope you enjoy this inside look at paper making, and learn something in the process about the value of quality in all of our creative materials and tools.
Quick Facts
First papers made in 1557 for writing and books
1809 – first tracing paper
1947 – Canson supplies all paper for school students in France
Raw materials used to make paper: wood pulp, water, bleach pulp, fillers (calcium), starch, dyes, sizing agents, steam (to dry paper)
Fourdrinier – machine used to make the paper
Capacity – 1 roll per hour (each roll is 3 tons , 2.6 meters wide)
;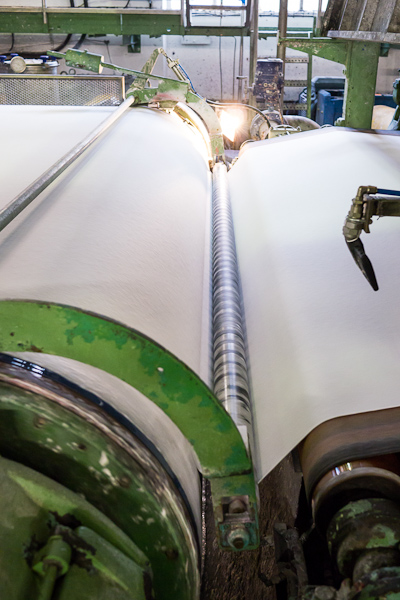 And here's how the machine looked 100 years ago – these images from the Canson Museum.
;