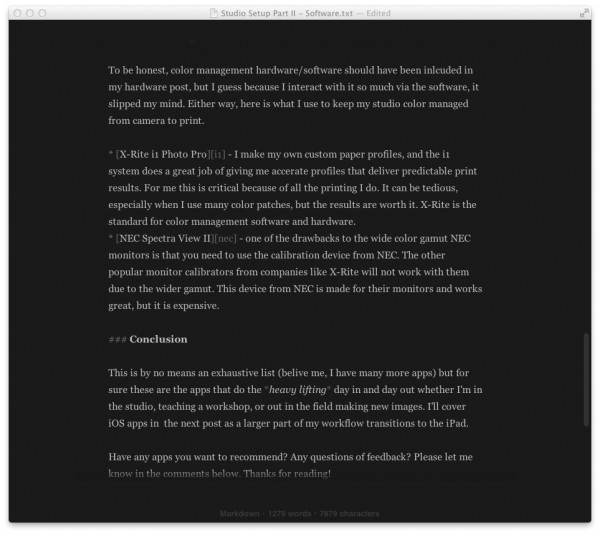 Using ByWord to write this post in Markdown
In part I of my studio setup article, I covered all of the hardware that I currently use to run my photo business. In this second article I'll cover the apps that I use most often as well as some calibration software/hardware products I forgot to mention in the first article.
Mac Apps
Adobe Lightroom 4 – my digital darkroom and database for my entire photo archive. From developing images, to keywording, printing, and sharing, I can do it all in one app. When a client or customer calls and needs an image yesterday, I can deliver exactly what they want with minimal stress – that means I'll get paid. It's also now available on the Apple App Store for $149.00.
Adobe Photoshop – When I need additional photo editing capabilities (which is rarer these days), or more likely work on design projects and web graphics, Photoshop is the swiss army knife. As an alternative, I've been very impressed with Pixelmator and I'm liking it more and more each day. For many image manipulation tasks, Pixelmator opens faster, is easier to navigate, and just feels faster and lightweight.
Auto Pano Giga – in my opinion, the best panorama stitching app for Mac or Windows. Consistently delivers great results, fast, and very powerful. Often I have re-stitched panorama's in Auto Pano Giga after trying other apps, and I'm always pleased with the results without much tweaking or hassle.
Image Framer 3 – this is a great app to mat and frame images virtually either for your own use or present to clients as virtual mock-ups. I use it all the time and customers love it.
Final Cut Pro X– I've always loved cinematography and now with the amazing video capabilities of DSLR's, I'm working on more and more video projects. FCP X is both simple and powerful, a makes working with DSLR files very easy. This is a deceptively deep program, but slowly I am learning my way around many of the advanced features, and it continues to amaze me with the capabilities it provides – on a laptop! (More on this in the future as I'm working on a 6 month film project based in the Hudson Valley – stay tuned.)
Omni Focus – manages all of my projects, tasks and to-do's, keeps me sane and productive. For ex. when a print order comes in, I drop it into an Omnifocus template which reminds me to cut the mat, print the image, order the frame, assemble and ship the print on time – very handy and efficient.
Scrivener – a fantastic writing app which I use for longer blog articles, ebooks, and any other long for writing.
Evernote – I've written in the past about how I use Evernote, but it's basically my digital file cabinet. Plus I love how it syncs across all of my iOS devices which keeps any info I need at my fingertips at all times, no matter where I am. I use it to keep track of inventory, supplies and vendors, store reference articles I find online, and manage my photo projects.
Byword – if you do any kind of writing on the Mac, I highly recommend this minimalist app that I use for distraction free writing. As a bonus it seamlessly syncs between the Mac and Byword for iPad via iCloud.
BusyCal – calendar app I which I prefer to Apple's built-in iCal app.
Apple Pages – used for laying out graphic intensive documents, ebooks, brochures, flyers, etc.
Apple Keynote – presentations, seminars, or any other speaking event, I rely on Keynote to help me deliver a compelling presentation. I wouldn't think of using anything else – it's one of Apple's best apps, probably because it was designed specifically for Steve Jobs.
Pandora – without this, work does not get done, period. From Mozart to Pat Metheny, and everything in between, it keeps the inspiration high. I really like Pandora 🙂
Framing an image for a prospective customer in ImageFramer
Plugins
I use a variety of plugins mostly in Lightroom and Photoshop to get some extra functionality I find useful.
Photographer's Toolbox – I love all the plugins for Lightroom  from this developer, but my favorite is Mogrify 2 which allows you to add borders, annotations, extra sharpening and other nice embellishments when exporting images.
Perfect Layers 2 – blend 2 or more images in Lightroom with this great plugin from OnOne, and best of all it's free!
Noiseware – the noise reduction in Lightroom 4 is really amazing, but when I need more, I turn to Noiseware, and it works as both a plugin in Lightroom and Photoshop.
Photokit Sharpener – similar to Noiseware, when I need extra control, very localized sharpening, and precise output sharpening, Photokit is my favorite sharpening plugin for Photoshop.
Extra's
While not technically software in my studio, I also use several web based services for the business side of things. It makes sharing information easier with others, and again lets me access it when I travel. Since my wife is my book-keeper, it lets her access the info easily from any browser.
We use Batchbook for contact and customer management, Mailchimp for email newsletters (free for 2000 subscribers or less), and Mindmeister for brainstorming articles, presentations, workshops, marketing, and other ideas that pop into my head.
In my opinion, Dropbox is a must have service for any photographer. I can write a whole post on Dropbox, but I use it mainly for syncing all personal and business files, sharing of anything over the internet, and for creating photo galleries for prospects and clients.
Color Management
To be honest, color management hardware/software should have been included in my hardware post, but I guess because I interact with it so much via the software, it slipped my mind. Either way, here is what I use to keep my studio color managed from camera to print.
X-Rite i1 Photo Pro – I make my own custom paper profiles, and the i1 system does a great job of giving me accurate profiles that deliver predictable print results. For me this is critical because of all the printing I do. It can be tedious, especially when I use many color patches, but the results are worth it. X-Rite is the standard for color management software and hardware.
NEC Spectra View II – one of the drawbacks to the wide color gamut NEC monitors is that you need to use the calibration device from NEC. The other popular monitor calibrators from companies like X-Rite will not work with them due to the wider gamut. This device from NEC is made for their monitors and works great, but it is expensive.
Conclusion
This is by no means an exhaustive list, but for sure these are the apps that do the heavy lifting day in and day out whether I'm in the studio, teaching a workshop, or out in the field making new images. I think the important point I want to make is that applications, like cameras and lenses, can become a distraction to the ultimate goal of getting work done, whether creatively or otherwise. I use the apps that have proven their value to me in real world situations. I try and invest the time to learn them well, and in return they help me run a business I could never have managed on my own 10 years ago.
I'll cover iOS apps in the next post and illustrate the many ways I have integrated the iPad and iPhone into my workday.
Have any apps you want to recommend? Any questions of feedback? Please let me know in the comments below. Thanks for reading!